Demons manager Simon Goodwin led training at the team's training base in south-east Melbourne, appearing jovial with the players after the club came to their defense following allegations of 'intimidation.
Goodwin took to the Casey Fields training ground around 8 a.m. Wednesday, hugging the players and giving high-fives after running a few laps around the oval.
Melbourne have signaled they are backing the premiership coach for the long term, with club and industry sources confirming on Tuesday that talks are continuing between Goodwin's management at TLA and the Demons over a new contract, which is expected to last at least three years. .
The sources said the allegations made public on Tuesday would have "no impact" on the board's opinion of the senior manager and his future at the club.
Melbourne President Kate Roffey on Tuesday dismissed bullying allegations against Goodwin, saying he was an "inclusive leader who is loved by players, coaches and staff and does everything possible to establish real relationships throughout the football department and the club at large".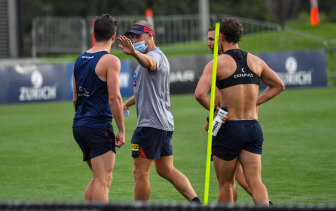 Roffey said as part of a review of the football program after the 2020 season, Goodwin received and adopted feedback on areas it needed to improve.
"During these feedback discussions, Simon totally denied any accusations of bullying behavior and as club chairman, I fully support Simon's denial of these accusations," Roffey said.
A News Corp report on Tuesday claimed alleged behavioral issues led to an emergency board meeting on the eve of the 2021 season, to discuss whether or not to suspend Goodwin.